Friday, October 20, 2017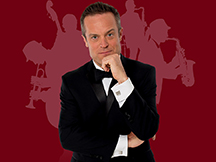 There is a performer in Dallas known for his magical voice and ability to entertain like the greats of yesterday. His name is Ricki Derek and to label him a lounge singer would not be far from true, but an understatement nonetheless. To hear him sing, you would think "Old Blue Eyes" was right there crooning. Always dressed for the occasion, Ricki makes you feel like you've got a front row ticket to an old school show on the strip.
Ricki just looks like he's having a good time. His
interaction with the audience and his band make each show exciting and different. There's that old school attention to detail that makes a Ricki Derek show just that, a show!
Whether he's crooning with the Vegas Six, big band, or even his trio, Ricki will have you dancing to the wee small hours of the morning.